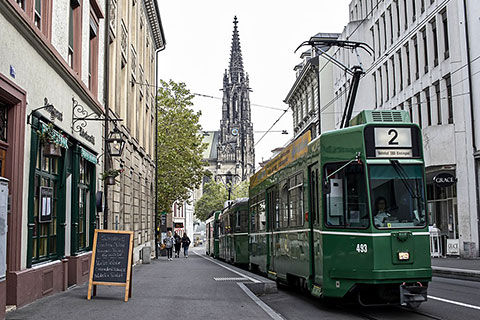 By Air
Basel uses EuroAirport Basel Mulhouse Freiburg, one of the world's only binational airports (Geneva is the other). Arriving travelers can exit customs directly to Switzerland or to France. Direct flights link Basel to most major European cities as well as the Middle East, north Africa, and Canada.
Regular bus service runs between EuroAirport and the Bahnhof SBB in the center of Basel. The trip takes about 15 minutes and costs 4.20 CHF per person.
One-way taxi fare from the airport to the Basel center is approximately 50 CHF; it takes about 15 minutes in light traffic and up to 30 minutes at rush hour. There are normally cabs at the taxi stand, but if you need to call one from the airport, make sure you leave the building on the Swiss side.
By Train
There are two main rail stations in Basel. The Bahnhof SBB in Grossbasel connects to destinations in Switzerland, France, and with the Intercity Express to Germany. The Badischer Bahnhof in Kleinbasel runs services to Germany. If you're coming from Germany and staying in the Old Town, make sure your train goes all the way to the SBB station on Centralbahnstrasse; many a weary traveler has walked an hour from the German side of town.
Train Contacts:
Badischer Bahnhof
Schwarzwalderstr. 200, Kleinbasel, Basel, 4058. 061/6901215.
Bahnhof SBB
Centralbahnstr., Bahnhof SBB, Basel, 4051. 0900/300300;
www.sbb.ch
By Car
The German autobahn A5 enters Basel from the north and leads, as the E25, directly to the Rhine and the center of the city. From France the autoroute A35 (E9) continues through Basel via a tunnel linking to the E25. The E25 feeds into the A2 autobahn leading to the rest of Switzerland. Since most of the city's sights are within walking distance of downtown, it's advisable to park your car for the duration of your visit. Expect to pay around 25 CHF per day for parking at an all-day garage.
Mobility Ticket
Each guest staying in a hotel in Basel, receives a Mobility Ticket upon check-in. This allows free use of the public transportation system in the city of Basel and its environs (zones 10, 11, 13 and 15, incl. the way to and from the Airport). The ticket is valid for max. 30 days. On the day of arrival, the reservation confirmation from the hotel guarantees a free transfer by public transport from the train station or the EuroAirport. So please don't forget to print your hotel confirmation and to take it with you on the tram or bus!
Useful Links